BREATHING HELL
GOSPEL OF ANNIHILATION
6
(ACT OF SIN RECORDS)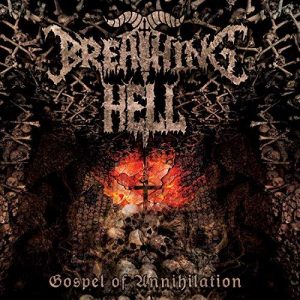 Breathing Hell er en ret nyankommet supergruppe fra Polen, som har medlemmer fra bla. Infernal War og Blood Division. De kom ud med deres debut sidste år, som hedder Gospel Of Annihilation. Albummet starter med introen "The Initiation", som består af et gyseligt og dystert klaverspil, og det sætter stemningen for hvad der vil komme imod dig. På næste nummer "Advent Of The Adversaries" går albummet rigtigt i gang, et brutalt riff, blast beats og en ret black metal agtig vokal, og så kører det bare derudaf derfra. I helhed er dette album ikke decideret dårligt, men jeg føler at jeg har hørt det tusinde gange før. Dog har denne plade sine lyspunkter med numre som "Omnicide", hvor trommeslageren sidder i rampelyset i starten, og den er fyldt med groove efterfølgende. Andre højdepunkter er "Hellraising Degenerates" og "The Seventh And One". Jeg ser potentiale i det her band, men jeg føler at albummet er lidt ensformigt, samt at introen var unødvendig at smide ind, da den ikke passer til resten af pladens energi. Da jeg hørte pladen 2-3 gange, fik jeg lidt mere ud af det, men jeg føler stadigvæk ikke at jeg er helt tilfredsstillet. Soloerne er dog værd at nævne. De er ret avancerede og komplekse, men ganske underholdende at høre når de dukker op. Det her album har fart, groove, melodier, brutalitet og agression. Hvis du er fan af Arch Enemy, Hatesphere, Dark Funeral og Belphegor, så er det her lige noget for dig.
Nikolaj