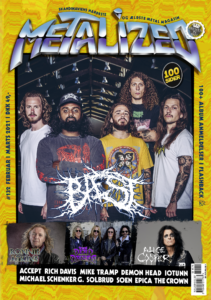 METALIZED #132 UDE NU!
Så er det tid igen – vores hårdtarbejdende skribenter, redaktører, fotografer, layoutere osv. har skabt et nyt nummer af Metalized. #132 i rækken. Og det er på gaden NU!
100 sider denne gang!
I #132 kan du finde interviews med bl.a. BAEST, Ronnie Atkins Official, The Dead Daisies, Alice Cooper, Mike Tramp, ACCEPT, Rich Davis, Demon Head, IOTUNN, Solbrud, The Michael Schenker Group, Soen, Epica, The Crown, Crystal Viper, Dread Sovereign, DVNE, ENDEZZMA, Fellowcraft, Immortal Guardian, Karosserifabrikken, LAST MILE Records, Like Moths to Flames, Lotan, Necralant, The Fire That Burns, Trillionaire, Vestindien, Jours Pâles, Les Chants de Nihil, Wesenwille, Iscuron, WARSIDE, Oceana, Natron, Convulse, Pulchra Morte, m.fl.
Og selvfølgelig 100+ anmeldelser, flashback osv.
Vi har indgået et endnu dybere samarbejde med vores distributør Bladkompagniet – som nu også vil tage sig af alt hvad der har med Metalized abonnementer at gøre. Både hvad angår forsendelse, betaling, kundeservice osv. Så nu slipper chefredaktør Mika Botfeldt for at stå at slikke på frimærker hjemme på drengeværelset 😂
Dette fejres med at både abonnementer og online løssalg fremover nu er med GRATIS LEVERING!
Det vil sige at du får Metalized sendt lige til din dør for 49 kr. pr. nummer – portofrit.
Inde på BladPortal.dk's side kan du købe abonnement for et år (6 numre) eller et halvt år (3 numre) – og du kan også bare nøjes med at købe det nyeste nummer! Og det helt nye nummer #132 er netop gået på lager, så skynd dig ind og bestil: https://www.bladportal.dk/metalized-1224.html