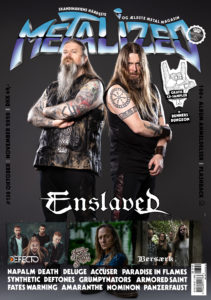 Metalized #130 er på gaden NU! Bladet er muligvis det tungeste heavy metal magasin, der nogensinde er produceret og udgivet på Dansk jord. Når vi nu skriver tungeste, så er det ikke kun indholdsmæssigt, men selve bladet har taget godt på i vægt denne gang. Måske er det fordi Metalized ikke har dyrket nok motion i disse corona tider? Den sande grund hertil er, at vi har haft et overload af interviews og nye udgivelser, som der skulle tages hånd om til dette nummer, der er især kommet en del ind, som der skulle med i sidste øjeblik. Ikke nok med at I læsere får mange flere sider for pengene denne gang, så er der også en gratis cd med til jer denne gang. Ikke bare en cd men hele to stykker – nemlig en dobbelt compilation CD fra det toneangivende selskab Les Acteurs de l'ombre Productions! Alt dette til den super lave pris af 49 kr. En ret lav pris hvis man ser på andre store metal magasiner, hvis vi selv skal sige det
Aldrig før i Metalized 33 års leve historie, har vi været under så stort arbejds og tids pres. Man kan undre sig over, at det lige netop skulle komme i disse corona tider, hvor specielt musikken bløder voldsomt. Men udfordringen blev taget op, og resultatet ligger nu klar fra tryk!
Det er legendariske norske Enslaved der pryder forsiden denne gang, og udover dem kan du i Metalized #130 læse interviews med bl.a. Defecto, Jesper Binzer, Bersærk, Napalm Death, Accuser, Paradise In Flames, Deftones, Grumpynators, Armored Saint, Synthetic, Déluge, Fates Warning, Amaranthe, PANZERFAUST, Nominon, Karosserifabrikken, Kingdom Of Giants, Toxaemia, Iron Angel, Greybeard, Alpha Wolf, Harlott, Nonexist, MR.BISON, FROM HELL, BURN THE MANKIND, Surma, In Cauda Venenum, Ash Return, I'LL BE DAMNED, Griffon, Evoke, Hexecutor, Demolizer, Switchblade Romance, Among Phantoms, Isiulusions, Reternity, Veritas. Boys From Heaven, Curses, PitchBlack, Repulsive Vision, PUTERAEON, Bad Touch m.fl
Herudover er der 100+ anmeldelser, Flashback osv.